Winning Lesson Strategies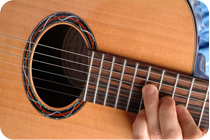 Private Guitar Lessons to Achieve Your Desired Skill Level
The best way to succeed at guitar is learning from a skilled, competent mentor. Improve your knowledge and take your guitar skills to new levels with private guitar lessons from instructor and accomplished guitarist Joe Galloway.
Joe's personalized, comprehensive study programs have helped hundreds of students learn the Visual Elements of the Fretboard, how those elements are used in traditional music notation and guitar specific systems like tablature, chord grids and fretboard diagrams. This visual insight allows you to have creative control over your playing.
Beginner or Pro
Joe accepts students from Beginners to Professionals and invites you to help him create a personalized study program that fits your learning style and your goals as a guitarist.
To enroll or for questions about getting started, contact Joe at

817.727.0371
Pricing & Policies

For lesson durations, pricing and special program discounts, please call.

Payment is due in advance of your first scheduled lesson.

All payments for tuition are non-refundable. Your tuition reserves specific lesson times on specific dates and pays for the time booked, not the service.
Lessons are available on a first come first served basis so call Joe soon to ensure you can schedule a day and time that best fits your situation.